9 tags
11 tags
Watch
Switchbacks — Shred for Mom Summer just started and no better way to kick it off than with a rad switchbacks sess on Mother's Day. Thanks for being so rad Mom! Riders: Kyle Ramsey, Cole Cochran, Austin Meyer & Andrew Sieffert http://www.bclongboards.com, http://www.reytrucks.com, http://www.krlongboarding.tumblr.com
8 tags
10 tags
8 tags
4 tags
Watch
The Machado Classic — Marble Outlaw Deep into NoCoast territory a race was held in honor of our brother Jason. About 40 riders from five different states got together and raced in the rain. For a full race report including rad photos check it out on Thane Magazine: http://www.thanemagazine.com/2013/05/the-machado-classic-marble-outlaw-report/ The entry fees were donated to Jason and all the...
12 tags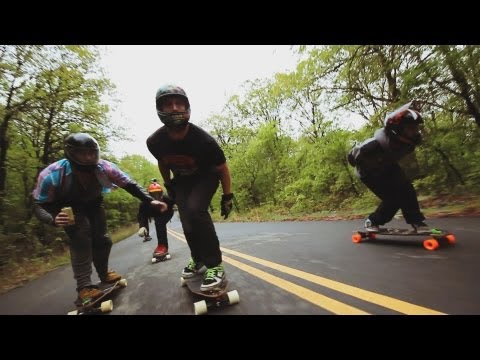 4 tags
Watch
Machado Classic – Raw Run Sick last run with some homies after the race. No gloves. No problem I have a cold beer to keep me safe.
6 tags
8 tags
Watch
The Machado Classic – Marble Raw Run The fastest outlaw to date is coming up this weekend in Oklahoma. It is an invite only event with rippers driving in from out of state. Part of the entry fees are going to Jason who was seriously injured during the filming of the promo. Jason Machado is always charging so hard, this run is just an example of that. Kavon busted out an insanely sick edit...
5 tags
6 tags
7 tags
15 tags
4 tags
2 tags
Watch
No Name – No Coast No names. Ripping on a chill weekday. Afterwards we went for a drift sess in the Sub on a private road. The owner chased us in his truck and then tried to punch the driver. We drove away just in time so he wasn't able to get to us and punched the back window instead, no damage done. This 6ft tall country hick looked like he was going to kill us. Skate safe & always...
12 tags
Watch
BC Longboards Torpedo Jason Machado taking a local run on the dope new BC Longboards Torpedo. It's part of the new line up for 2013. Bamboo. Concave. Rocker. Flared Wheels Wells. http://www.bclongboards.com/boards/torpedo Watch on YouTube: http://www.youtube.com/watch?v=Rf3W8D6ycbo Length: 36.5 in. (92.71 cm) Width: 10 in. (25.4 cm) Wheelbases: 27.5 – 29.25 in. (69.85 –...
9 tags
Watch
THANE MAGAZINE: Rayne Neighborhood Review Stokelahomie Kyle Ramsey orchestrates the review of some of the new Rayne Longboards products: the new Rayne Avenger and the new Rayne freeride wheels. "I wanted to get the opinions of some of the guys I skate with, including some of the local grommets.The feelings were pretty unanimous, the Avenger is everything you could ask for in a top mount....
8 tags
7 tags
3 tags
10 tags
Watch
Core Low Life Today was more fun than usual at a local spot. With close to 20mph tail winds and rain on and off it made for some patchy pavement. The corner that is usually all grip was fun with a tiny predrift. Core Low Life. reytrucks.com bclongboards.com coreextremesports.com krlongboarding.tumblr.com
10 tags
Watch
Whispering Hills Invitational – Round 2 Sometimes the country is better than the city. No traffic, cows and sheep, sick little dumper runs in the middle of no where, and people driving around drinking during the day. Dave Gnomesteez threw the second edition of the Whispering Hills Invitational and once again Juicy J Henry from, well this week I think he lives in Arkansas, won it again. Dude is...
8 tags
12 tags
Watch
2012 Compilation – Episode 2 2012 was an epic year for the Oklahoma longboard scene, quite a few local races and many, many skate trips. We don't have many long and fast local spots so we travel deep into NoCoast territory to find faster runs. Episode 2 focus' on our travels , ending with our trip to Buffalo Bill Downhill. Our sponsors make these trips possible, thanks to...
9 tags
6 tags
6 tags
6 tags
5 tags
Watch
Get Rad in the Canyon Chill sess with some Texas and Stilli homies in our canyon run this past weekend.  www.bclongboards.com, www.reytrucks.com, www.coreextremesports.com, 
7 tags
5 tags
4 tags
5 tags
Watch
Groundhog Day Outlaw – After Race Quickie Across the street in the back of a neighborhood called Krack. A bunch of us headed over there for a quickie after the race yesterday. Fun having so many rippers out there with us. Riders: Too many to name.
6 tags
Watch
Groundhog Day Outlaw – Finals After a huge turn out from three states we gathered in what became the Groundhog Day Outlaw in Edmond, OK. Rad heat with my BC Longboard teammates and homies from Stilli. 1 – Jason Machado 2 – Dave Gnomesteeze 3 – Kyle Ramsey 4 – Kavon Zamanian
RIDE BC
This week only, use promotion code "WORKHARD" for a 20% discount on ALL products!! Get 'em while their hot!  Work hard, be smooth, live free.. Ride BC!!  www.bclongboards.com
9 tags
Watch
Packin' Turley 2 A chill day of pack riding with the BC Longboards Downhill crew and our rad Stilli homies. Not a really fast run, but with a lot of cracks and a killer tail wind, it made for some hectic runs.  Riders: Jason Machado, Josh Hughes, Kyle Ramsey, Dave Gnomesteeze, Gerrit Hoover, Kavon Zamanian  BC Longboards has a sick new 2013 lineup, check it at www.bclongboards.com/boards/ ...
6 tags
7 tags
9 tags
5 tags
Watch
TEXAS SITE HOSPITALITY So stoked to be back on the board and riding. After not being able to really skate for the past couple of months from my broken arm, this past weekend I found myself in Austin on a cold morning hitting one of my favorite runs. At 8 am there wasn't much traffic, but I found a rad dude named Arthur that happened to drive by, he was a local skater and offered to give me...
8 tags
9 tags
DAT SKATE[SLATE] →
So stoked to have SKATE[SLATE] post our BOARDER CROSSINGS: The Dankest of Dank!
11 tags
Watch
BOARDER CROSSINGS: The Dankest of Dank Check out the dank that is Gnarkansas. Before you is a compilation of the best clips from our Boarder Crossing trips. We've made the journey deep in the No Coast three times now each finding new epic runs to hit. Our group continues to grow. The first trip we only had 4 guys now we have 9 to 10 that come with us. Always skate within your limits. Now,...
5 tags
9 tags
7 tags
11 tags
Watch
LET'S RIDE Two GoPro's, 6 rippers, a sick hill, Bone & Biggie. Riders: Matt Ewalt, Jason Machado, Cole Cochran, Dave Gnomesteeze, Gerrit Hoover & Kavon Zamanian www.bclongboards.com, www.reytrucks.com, www.coreextremesports.com, www.bombsquadlongboarding.com
7 tags
Watch
Broke-Off for Christmas I spent the holidays this year in Kansas and unlike all the awesome gifts I received, I spent it with a broken arm. I was then blessed with some snow to take the board out for a session for the first time in four weeks. I then taught my wife, her Uncle Greg & cousin Matthew how to ride as well. Then of course we had to shoot bb-guns to top off the session. Shred every...
6 tags